Donatello: Sculpting the Renaissance
V&A, 2023

The first major UK exhibition to explore the exceptional talents of the Renaissance artist Donatello. One of the most inventive and influential artists of the Renaissance, Donatello was at the heart of the revolution in art and culture taking place in 15th-century Italy. Donatello combined the growing interest in ancient Greece and Rome with the familiar traditions of his time. The exhibition explored Donatello's creativity and unique vision, his workshop practices and collaborations, and his enduring impact on artists across the centuries.

The exhibition design takes its cues from Florence, the cradle of the Renaissance, and presents the exhibition's narrative and through a series of semi-translucent architectural structures and piazza-style open spaces. The exhibition title lettering has been v-carved and infill painted, using a typeface designed by Paul Shaw after his extensive research on the 'Florentine Sans Serif'.

Curated by Peta Motture, Whitney Kerr-Lewis and Sabrina Villani (V&A). 3D design by Sam Brown, and Kane Carroll (V&A), lighting design by Studio ZNA, photography by Thomas Adank.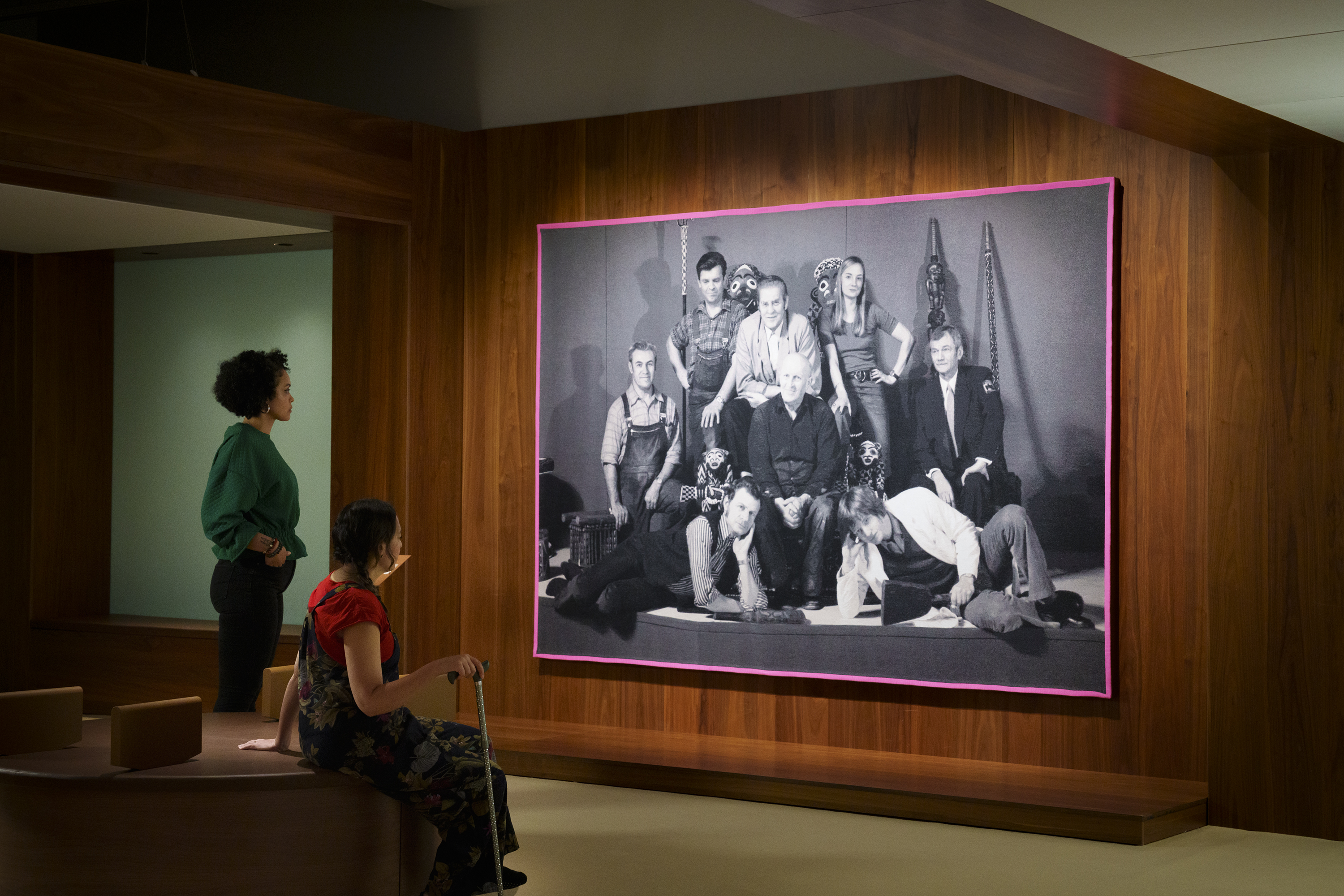 Grace Ndiritu: The Healing Pavilion
and Jim Naughten: Objects in Stereo
Wellcome Collection, London, 2022


This exhibition presented two artists' commissions, both concerned with ways of looking at what and how museums collect.
The Healing Pavilion
by British-Kenyan artist Grace Ndiritu radically reimagines what textiles and architecture can do in a museum burdened by colonial history. This work and the accompanying essay are connected to Ndiritu's ongoing body of work, 'Healing The Museum', which she began in 2012.
Objects in Stereo
is a project by British photographer Jim Naughten, whose work explores museum collections through a combination of stereoscopic and large-scale photography. The exhibition presents new perspectives on the practice of keeping a collection and asks what it means to keep and care for museum objects. 3D design by
Plaid
, lighting design by
Sanford Lighting
.
Photography ©Wellcome 2022
Science City 1550–1800
Science Museum, London, 2019

A new permanent gallery for the Science Museum, part of the museum's Masterplan redevelopment project. The gallery explores how science transformed London and London transformed science over a 250 year period. The objects on display, mostly instruments for experimenting, looking, measuring and presenting scientific enquiry, chart the development of science from 'natural philosophy' to early modern science. The gallery is expected to remain open for 25 years. 3D design by
Gitta Gschwendtner
, lighting design by
Studio ZNA
, illustrations by
Siôn Ap Tomos
, photography by
Simon Sorted
.
Living With Buildings; Health & Architecture
Wellcome Collection, 2018
An exhibition that explored how the built environment impacts our physical and mental hea
lth in both therapeutic and domestic contexts. Situating archival material alongside existing and newly commissioned artworks to examine the theme from both historical and artistic perspectives. Artist Giles Round developed Colour Palette, Living with Buildings (2018) – a colour palette investigating the role of colour in architecture on all aspects of health. Comprising of 31 colours, the palette was used across the exhibition design and graphic schemes. Curated by Emily Sarg
ent, 3D design by Smout-Allen, lighting design by Studio
ZNA. Exhibition Photography ©Wellcome 2018.
Living With Buildings: Global Clinic
Wellcome Collection, 2018
Part of Living With Buildings, the Global Clinic was the result of an open architecuture competition calling for proposals that could demonstrate how architecure could respond to a global issue in health today. The winning design, a collaboration between Doctors of the World and Rogers Stirk + Partners, presents a solution for a flexible, easy to build and transport mobile clinic at 1:1 scale in the gallery.